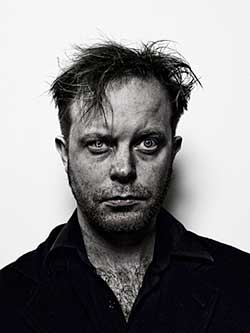 Norwegian musical troubadour Mark Steiner has had a ongoing love affair with Australia since 2008 when he first visited our shores, fulfilling a self-promise after hearing the music of Rowland S. Howard when he was a teen growing up in New York in the '80s. He's now making his fourth trip Down Under, playing songs from his latest album, "Saudade", in and around Melbourne in January.
A purveyor of melancholic lounge-noir compositions, Steiner's commanding voice and dark, sinewy rhythms of electric guitar have been described as "the epitome of a booze-soaked evening in a dirty clandestine bar and an ashtray full of pain"
Details

By

The Barman

The Barman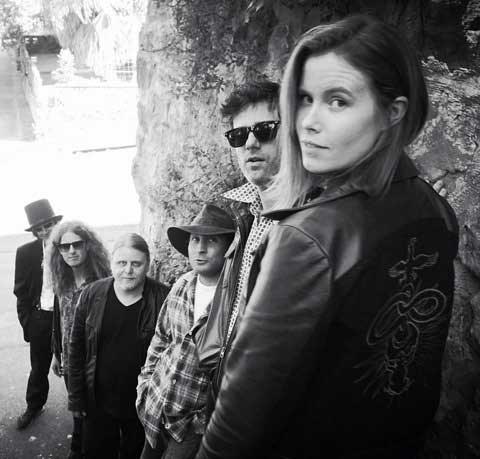 A few weeks ago at the Factory Floor in Sydney, I caught The Nice Folk supporting Harry Howard and The NDE and The Holy Soul.
The Nice Folk (for me) were a cross beyween early Captain Beefheart Magic Band and Pere Ubu. I wrote that they could "pull out a slow, sleazy blues song and switch to early Beasts of Bourbon-like sloppy and swampy excursions". What really struck me that night, however, was that they captured a spirit of an Australian music scene from a long time ago.
In the '80s, pre-Nirvana, pre-Ratcat. pre-corporate festivals - and the boozed up smashed bogans with Southern Cross tatts thinking they are cool one day of the year going to the Big Day Out - there were bands like The Nice Folk. These bands knew they were never going to capture a place in the commercial charts. They were truly underground.
This let to music that was free from attempting to be accessible. It was about the band and music first and not getting them "Suck-cess". Bands like the Laughing Clowns, Lubricated Goat, Box The Jesuit and the early Wet Taxis. Which is why I really liked The Nice Folk. They had a similar attitude and devotion to their music.
Details

By

Edwin Garland

Edwin Garland

Reviewing the new Radio Birdman box set is an absolute poisoned chalice. You know I'm going to give it five bottles, right? It contains most of the great recordings by the greatest band to have sprung from these shores. Bar none.
I include everyone in that statement from the Easybeats through AC/DC and onto whatever crap that is currently passing itself off as popular music. Forget your Hoodoo Gurus and your Sunnyboys, your Birthday Party and your assorted Johnny Come Latelys. This band was Ground Zero and Year Zero. Accept no substitutes.
"Radio Birdman. Box Set. Seven CDs. One DVD. One hundred Aussie bucks. Five Bottles. Yay. It's great."
And that has been the extent of the reviews of this thing. Nobody has wanted to prod it with a stick and turn it on its side. And with several good reasons. Radio Birdman have always put the fanatic into fans. No more surly beast has ever walked the earth than a Radio Birdman fan.
Details

By

Bob Short

Bob Short
Bob Short's Complete History Of Rock and Roll returns with Episode 14 to wish you Merry Xmas and/or Happy New Year. Here's what the postman brought Santa Bob in the mail. Tracklist after the fold (click MORE)
Details

By

The Barman

The Barman
You all know who Dan Brodie is, right? He's released several LPs and EPs and yeah. You need this lil' gem in your collection.
Why? Apart from the songs, it's a fine little story of r'n'r excess, consequences, surgical procedures and ends with a damn-the-consequences romp in sterling style. I'll quickly add that the production on the EP is damn fine too - that's Glen Hewer, and the mastering is raucous and clean: David Briggs.
Details

By

Robert Brokenmouth & The Barman

Robert Brokenmouth & The Barman

Here it is folks - this is the sound the "cool kids" make these days. "Cool kids" being what the wearers would dismissive as a totally pejorative term, but essentially being a title for whatever constitutes a "scene maker" in these musically fractured times. "Scene" being another pejorative word.
It's hard to keep up with contemporary music once you pass a certain age - even when you're consciously trying to cock an ear to what seeps out of cracks in the footpath and shuns daylight. Of course it's a given that you shouldn't pay attention to just about ANYTHING that makes it to commercial radio airwaves, but in this case "contemporary" means the underground shit, maaan. And Los Tones are under the commercial radar by any measure.
Details

By

The Barman

The Barman

Although this intense Melbourne, moatly-instrumental, punk rock band (containing two ex-members of Venom P Stinger) has placed "Movement" first, "The Marianas" was recorded some four years earlier, so I decided to listen to that first.
Yes, this is a double CD set, and it's not one of those purple burns either. Properly recorded (by Rick Ferrara) in a real paid-for studio, mixed by the band and mastered by head Spook Loki Lockwood, the band spent some time and serious dosh on this. They wanted us to hear it.
Er, yes, well, I do apologise for taking a little while to get to it, it arrived in my inbox a few months ago. (It came out in 2009 and - mea culpa - I lost it down the back of the lounge - ED.) Which turns out to be a good idea, as I don't enjoy "Movement" as much as "The Marianas". I'm pretty sure the Drown's pack is a four bottle item, so stop picking your nose and pay attention at the back.
Details

By

Robert Brokenmouth

Robert Brokenmouth

This LP you're gonna sink into like a warm bath on a winter's day… This is one sexy album. In a way, it's got 'make-out disk' pencilled all over it…
It's a sequel to Gluck's 1987 cult classic, "I Knew Buffalo Bill".
Get this, though. Jeremy Gluck - ex-Barracudas singer and collaborator with Nikki Sudden, Rowland S. Howard and Jeffrey Lee Pierce - is hugely talented. Here we have a man who's found another way to get our attention and make us smile and cry and dance… all to his trademark confessional style… hard to pull off, yet so easy for Gluck …
Details

By

Robert Brokenmouth

Robert Brokenmouth
You've heard a lot about Stooges guitarist James Williamsons' stellar "Re-Licked" album here but you may not know that he's playing it live. The first of what are expected to be selected dates only is at the Bootleg Theater in Los Angeles in January.

Williamson will be joined by guests including Alison Mosshart, Lisa Kekaula, Jello Biafra and Carolyn Wonderland on January 16. Tickets here.

Straight James did a guest spot with The Icarus Line earlier this month, joining vocalist Joe Cardamone on "Pinpoint Eyes."


Details

By

The Barman

The Barman