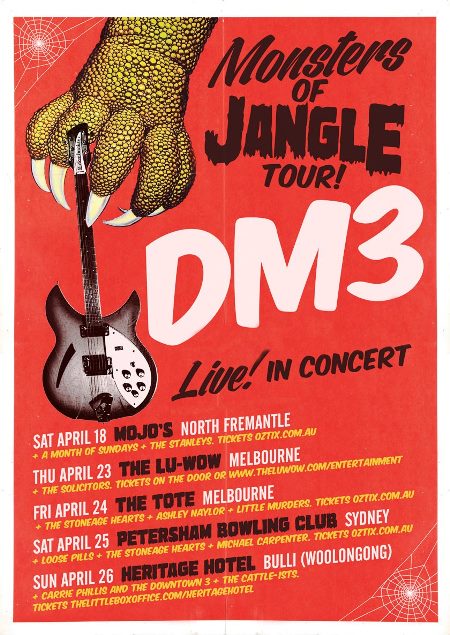 Legendary guitar-pop trio DM3 are set to tour Australia in April following a renewed interest in the band on iTunes and on vinyl.
DM3's "Monsters of Jangle" Tour will be a rare chance for fans of the WA-based, internationally revered power-pop outfit too see them perform live in limited venues around Perth, Melbourne and Sydney ahead of a trip to Japan.
"Monsters of Jangle" will showcase DM3's 'Best of' vinyl release "One Time Two Times Three Times More", a collection of explosive highlights from their five albums released on the respected Sydney based independent label Citadel Records from 1993-2002.
Formed in 1992 by The Stems' founder songwriter Dom Mariani, the original line-up of DM3 includes Summer Suns' drummer Pascal Barlolone and Someloves' bassist Toni Italiano. Together they are revered worldwide for an explosive sound that fuses melodic pop hooks, cool vocals and high energy rock'n'roll guitar.
DM3's first two albums "One Time Two Times Three Times Red Light" (1993) and "Road to Rome" (1996) were produced by the legendary Mitch Easter (REM, Pavement, Velvet Crush) and lauded by critics and fans alike as two of the world's best in power pop genre.
Album number-three "Rippled Soul" (1998) put Mariani's unrivalled skill as a songwriter front and centre and won legions more fans at home and in Europe and the USA.
Details

By

The Barman

The Barman