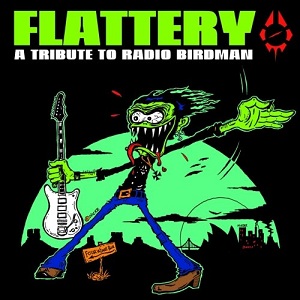 Fifteen years ago, US-based rabid rock and roll fans in Washington DC launched a mission to issue a tribute album to the songs of Radio Birdman played by what were then contemporary bands.
Reaction to the "Flattery" tribute was so positive that Jake Starr and Dave Champion were forced to package it as three standalone CDs through their Fandango Records and Nomad Records imprints.
Now well into the 40th anniversary year of Radio Birdman's first gig, Spanish label Ghost Highway has picked up the idea and will re-issue the cream as "(The Best Of) Flattery", a vinyl double LP, funded through crowd-sourced finance. The LPs will be accompanied by a 7" single.