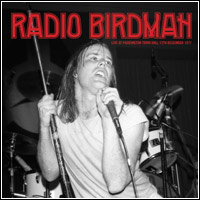 The tracklisting for the Radio Birdman boxset has leaked via a UK online retailer. The seven disc set (six CDs and a DVD) is slated for release in early October.
Update: Citadel Mail Order is taking pre-orders here.

Information from the band that the Paddington Town Hall gig (cover pictured at right) would be the jewel in the box set crown appears to be spot-on with the core of the release being familiar. There is enough meat on the bones in the form of bonus material, however, to satisfy most people.

The band's out-of-print EPs and some startling alternate versons and demo songs are being included although some live material that's been doing the rounds of fans for years is remaining in the vault.
Details

By

The Barman

The Barman