At first, second and third glances there are copyright problems all over this CD EP. And that's just the cover. This is wonderful.
Inside we have three beguiling, entrancing tunes - the title track, "Vice City Cop" and "Space Lounge." Your intrepid reviewer has been exposed dancing to all three, and even bouncing around in an Adelaide radio station studio to "Let's Go To A Disco!" Is it a band or an individual? These days you can't tell.
Details

By

Robert Brokenmouth

Robert Brokenmouth
What a brilliant record this is. I've played it about six times since buying this one on spec. Fuck but it's great.
See, this is why I like exploring Amazon. The Clash were panned in their day for their dub experiments, journos always banging on about how super they were live.
Funny. I saw them once and got bored fairly swiftly. Their LPs are not always cohesive, but sod that. That's what cassette tapes were for, and making your own versions of their LPs was always fun.
Details

By

Robert Brokenmouth

Robert Brokenmouth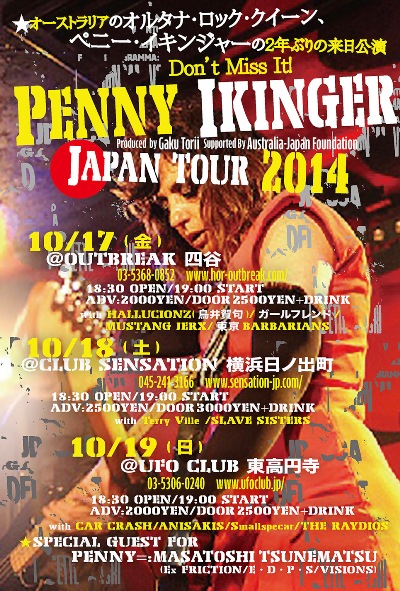 Australian sonic chanteuse Penny Ikinger is taking her unique sound to Japan again - this time to record as well as play live.
Penny has teamed up with Radio Birdman's Deniz Tek to write new material on the first stage of her next musical offering. Stage two then takes Penny back to Japan to team up with her Japanese musical crew to record the songs.
"I've collaborated before but this time I've taken it to another level to really challenge my approach to writing and to bring a fresh new sound to the music being created," Penny said.
"Deniz is a fabulously talented musician and opening up the music for a true collaboration was an experience that brought new energy and ideas to the whole process."
But that's not the end of the story. Penny will now take these songs to Japan where she will further collaborate with her Japanese musical partners from recent tours.
"Last time I went to Japan in 2012 I performed with some amazing psychedelic rock musicians – Masami Kawaguchi (guitar), Louis Inage (bass) and Keiichi Sakai (drums)," Penny said.
"This time around we'll play a few gigs, but the main focus will be recording this new material and having the guys bring their unique flavour to the songs.
"I'm really excited about the possibilities of where we might go with this – the crew in Japan are extremely talented musicians and although their sound aligns with my style, they are quite different in their approach."
Details

By

The Barman

The Barman

If you don't know Sun God Replica, they're a hairy floor-filling Melbourne three piece (led by Link Meanie) who enjoy breaking bones and throwing stones. With amplifiers, harmonies and a smirk at the back.
Sun God Replica are also the kind of band which would do well overseas. Get outta town, boys.
Details

By

Robert Brokenmouth

Robert Brokenmouth

A few weeks ago I went out in search of crunching, scabrous rock'n'roll. Headlining were Fear and Loathing (their usual ramshackly brilliant horrorshow), Leather Messiah just before (their new stuff is fabulous. Remember how Legends of Motor Sport were great fun but seemed to lack something? Leather Messiah have that extra something - they're a burnout, man).
The band I was curious about, Iron Feather, were second on the bill, and within seconds of punching us all out, assorted members of the Messiah and FAL were front and centre, thrilled.
And you know how old and past it we all are. Who the fuck are Iron Feather?
Details

By

Robert Brokenmouth

Robert Brokenmouth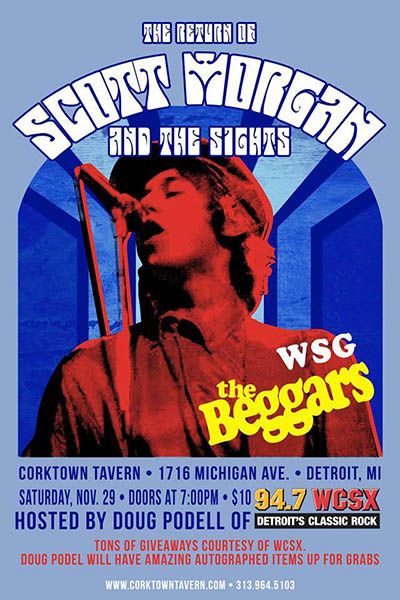 The legendary Scott Morgan (The Rationals, Sonics Rendezvous Band, Hydromatics) continues his return to the stage in stunning form and will play another gig with The Sights in Michigan in November.
Pre-orders have opened for his latest re-issue on Easy Action.
Details

By

The Barman

The Barman
Bob is back and he's going all original on us.
Details

By

The Barman

The Barman

Scratch deep enough and you'll find an undercoat of Yardbirds below the shiny paintwork of every worthwhile rock and roll vehicle.
We're talking a group that was part of the original wave of British blues, but took 12-bar and twisted it for their own purposes. The Yardbirds were true progenitors of overdrive and sustained feedback, bringing in eclectic influence like Gregorian chants and Eastern ragas.
All-in sonic escalations (dubbed "rave-ups" by the band) were features of their song arrangements. Does that that ring any bells about contemporary bands all these years later?
Details

By

The Barman

The Barman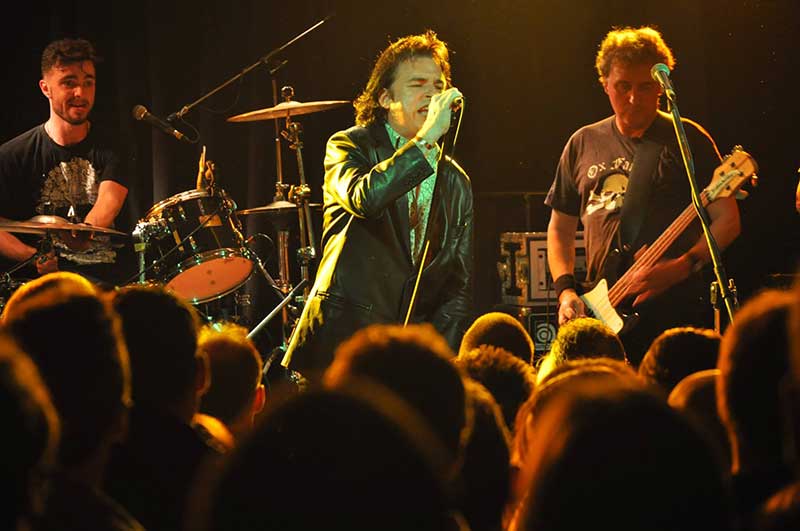 Ripley Hood stands in for Mick Blood in the Lime Spiders. Steve Whelan photo
Ten bands. One bill. Despite being run (a.) in what is, these days, a notoriously taciturn live music town as Sydney and (b.) in direct competition with some obscure code of football's grand final, it made sense.
Blood Bank was one of four benefit shows in as many cities to assist Lime Spiders vocalist Mick Blood, rendered unable to work after an altercation a few months ago in a pub in his newly adopted home town of Newcastle. Mick suffered a brain injury and is on the mend but it's going to be slow progress on a long road.
Details

By

The Barman

The Barman