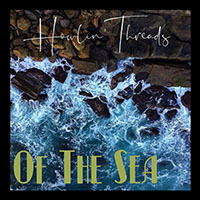 Of The Sea – Howlin' Threads (Meinshaft Records)
An EP with a generous serving of guests, "Of The Sea" is nothing if not true to Howling Threads' Detroit-via-Darlinghurst musical roots. Which sits just fine around these parts.
If you don't know already, Howlin' Threads is a trio whose members are located in and around Canberra and Wollongong. Dylan Thomas (guitar and vocals) and drummer Adam Fermo were in notable Newcastle band The Fools in the '90s while bassist Matt Houston was briefly in Tumbleweed.