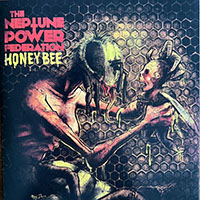 Honey Bee b/w Ride The Iron Space Bird - The Neptune Power Federation (Speek Evil)
Combining live theatrics with high-energy and heaviness is just one facet of The Neptune Power Federation. The other is being able to twist on a stylistic dime and pivot into another direction. In case you don't know, the Sydney band is populated by ex-members of Frenzal Rhomb and Nancy Vandal, and they bring all sorts of punk, metal and psych influences to the table.
The A side is sassy, bubblegum pop with Screaming Loz Sutch delivering a killer vocal. A nice edgy guitar solo from Troy Vod or Mike Foxall is the cream on top .Brilliant.