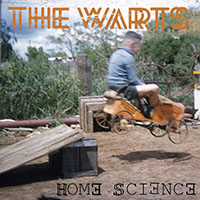 Home Science – The Warts (Outtspace)
You have to look hard to find Uralla on a map of New South Wales. Nestled in the Northern Tablelands, not on the way to anywhere in particular, it's a town of 2,000 people and not the sort of place you'd expect to find a band like The Warts. Or so the cliche would have it.
The Warts have been around for a couple of years and with the benefit of hindsight (along with their Bandcamp) it's clear that they began life with more than a passing interest in Krautrock acts like Neu.
At least that's how their 2019 album "Weakened by Mange" sounds when they were a quartet. Fast forward to now and long-player number two, "Home Science", is closer to Fugazi without the same sense of economy.