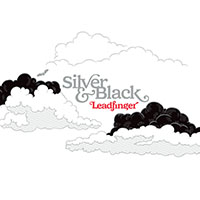 Silver & Black - Leadfinger (Golden Robot)
Yeah, well, I may have been away for a while. Haven't had a lot of time to listen to music. I mean, for a few months, music was that occasional thing in the background - which is not the way to enjoy music. There are (in fact) only two ways: live and in your face, or turned up loud and in your ears. Any other way, the stuff can only hint at a timeless upland of dancing and carrying on like a horny dog at a wedding, rather than the entire emotional brawl.
So turning on Leadfinger's "Silver and Black" is a bit like a starving, dehydrated man tottering into one of those "45 beers on tap" pubs with an Irish heart-clogging cook, accommodation, someone else's credit card and a couple of months to kill.