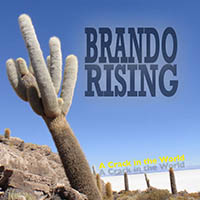 A Crack in the World - Brando Rising (Crankinhaus)
"A Crack in the World" is an utter cracker, and if any of you lot had recorded anything half as good as this you'd have heads as big as prize-winning pumpkins.
I mean to say, Jesus wept, lads. "A Crack in the World" gets your attention as surely as if someone has heaved a box of tinned tuna at your head.
Doesn't matter what mood you're in, put this in your slot (oo-er, missus, fnaar fnaar etc) and you'll feel like a character in a 1950s Warner Brothers cartoon who has rashly "just added water" to a mysterious sachet.