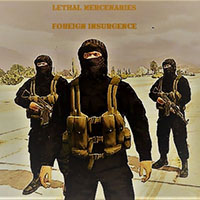 Foreign Insurgence - Lethal Mercenaries (self released)
Once you get past the homespun production, "Foreign Insurgence" is a handy slice of garage punk Rock Action.
It's a mini-album by Lethal Mercenaries, a band formed seven years ago by Charlie Lethal - aka Sydney musician and onetime I-94 Bar scribe Simon Li - and some local underground luminaries.
Simon is Hong Kong-born, Melbourne-raised and Sydney domiciled, so his influences are varied. He's also a product of Melbourne's musical training ground, Rock and Roll High School, and a slavish devotee of that city's late rock royalty, the Powder Monkeys.