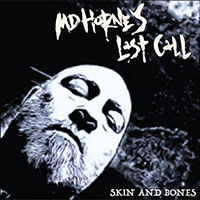 Skin and Bones – MD Horne's Last Call (self released)
Last year's "Red Dirt Bituman" album was a departure for 300 st clare and Johnny Casino bassist Mark Horne, and his 2021 incarnation MD Horne's Last Call sounds like another. While "Bituman" headed for the wide open spaces of the Australian bush, framing Horne's sparse songs against a stark, dry soundscape, "Skin and Bones" hops into a boat and sets sail on folk-punk seas.
"Skin and Bones" is the first track to be released (digitally, natch) from the forthcoming Last Call album, "High Tides, More Crimes", on OuttaSpace Records in Australia and both Folc Records and La Villa Nova in Spain.