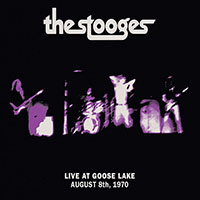 Live at Goose Lake: August 8th 1970 - The Stooges (Third Man)
Are you kidding me? This is conniption material. A high-quality soundboard recording of the original Stooges, plus saxophonist Steve Mackay, at a time when they were at the primal peak of their considerable powers? It's proof-positive - not that it's needed - that the Stooges of 1970 were indeed America's Most Dangerous Band.
The Stooges were a few months fresh from recording the epochal "Fun House" album and in a mind to confront Middle America on the sort of scale that could only be achieved off the back of substantial record sales.