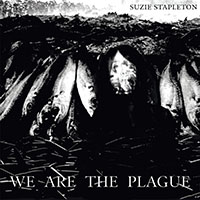 We Are The Plague - Suzie Stapleton (Negative Prophet)
Suzie Stapleton is a lifer: a singer songwriter guitar, violin and piano player and a rare breed of musician. She is the complete package. From the angular arrangement of melodies to the blues that float around her head, music is a 24/7 occupation..

Originally from Sydney, this artist knew that Melbourne was where she needed to be to develop her craft and skills by playing solo, and with all sorts of musicians, both live and in the studio. She became highly respected in that town.

I first saw her at the Prince of Wales in Melbourne with a cellist accompanying her, and Suzie completely claimed the room as her own. Even the most ardent St Kilda, beer-in-hand, rock pigs were blown away Two EPs were released and licensed in Europe, where word soon spread about her atmospheric vocal, guitar playing and original and dark arrangements.