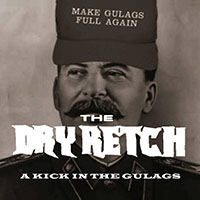 A Kick in the Gulags - The Dry Retch (Stalingrad Records)
A six-song EP with five of the tracks being Stooges songs never committed to tape in a studio? What are we gonna say if they're done well?
The Dry Retch come from Liverpool in the UK and they ain't The Beatles. They are two guitars, a kicking engine room and a truckload of dirt. They are committed Stooge-ophiles (a previous line-up released an EP with the title "Plays The Stooges".)
Principal member John Retch (vocal and guitar) grew up in Australia where he was exposed to high-energy sounds. He played in a stack of local UK bands and this 2019 EP revived The Dry Retch with a tweaked line-up. Stooges apart, the band's other listed influences are Chrome Cranks, The MC5, Mudhoney, Radio Birdman, Destroy All Monsters, Thee Hypnotics, Cosmic Psychos, the New York Dolls and the Brian James Gang. As Sir Les Paterson would say: "Are you following me, son?"