Details

By

JD Stayfree & The Ball Tonights

JD Stayfree & The Ball Tonights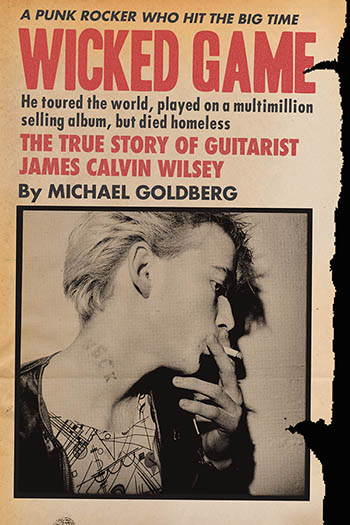 WICKED GAME – The True Story of Guitarist James Calvin Wilsey
by Michael Goldberg
(Hozac Books)
Spooky, soulful, nitro-twang genius, James Calvin Wilsey, Chris Isaak's beautiful guitarist, who conjured up all those memorable Ennio Morricone spaghetti western, eerie "Twin Peaks" vibes, was born in the Midwest but did not stay there long. His dad was one of those real old time, no nonsense, hard knocks, military aggressors.
I had a lot of close friends who played guitars in my middle school early garage bands, who had fathers like that. Ex-military, real macho, gonna make a manly man outta ya, big game hunter, type o guys. So yeah, being from smalltown Kentucky, my grandfolks family who raised me, were all old veterans and I was not like my cousins. I was never gonna be a 4-H show cattle, play sports, go to war for college money, type of person.
Then, we moved to a town whose only industry was building tanks in Ohio. man, that was a disaster for a little kid like me who could not catch a fucking football. My grandma had gotten me into Elvis from like, birth, almost. I used to wear a pink Presley concert ticket from the Rupp Areana show he never played because he died around in my middle school fedora during my "Pretty In Pink" years.
For me, it all started with Elvis. From there, I inherited an aunt's Monkees records and started seeing their show reruns on WXIX TV. My mother was a school teacher who tried to get me piano lessons, drums in the school band, a folk guitar that got stolen at Baptist reform school, but I sucked as a player. When I discovered Jim Morrison and Iggy Pop, I kinda decided I should be a loudmouthed frontman because I had all this feeling inside me, I wanted to express about the conflict I had with the sports and military culture I grew up in.
Details

By

JD Stayfree

JD Stayfree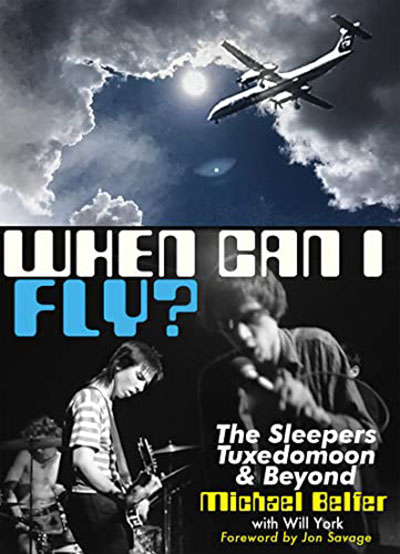 When Can I Fly? The Sleepers, Tuxedomoon & Beyond
By Michael Belfer
Foreword by Jon Savage
Hozac Books
I'm not that into art rock or prog rock, or Devo or the Residents, or any shit like that, right? I'm a Dead Boys guy, not a Pere Ubu guy, you know what I mean? Man oh man, though, once you get about 20 pages into this book by San Francisco punk scene pioneer Michael Belfer (guitarist with The Sleepers and Tuxedomoon) it reads like a crazy fuckin' movie. What a wild freakin' life this dude had! WHOA!
If you read my columns and rants on a semi regular basis, you are probably already hip to my ongoing theory that there ain't many good bands no more in part because controlled media consolidation pummels us all day with time-waster buy shit/puppet celebrity fakes we never asked for, and partly, because there is such a shortage of affordable real estate spaces available to rehearse in, since the banking scum jacked up all the rents everywhere under Obama and Holder who actually even went to work for 'em after failing to prosecute anybody for the mass mortgage scams, and the landlords who used to rent working class homes to working class people flipped all their rentals into Airbnb's and act like they're doing you some big fuckin' favor for painting their front porch steps purple, adding a hot tub and a Buddha statue to the yard and charging you $300 a night. These old punk bands paid like $300 a month, ya know?
Read more: Rides don't get much wilder and crazier than this
Details

By

JD Stayfree

JD Stayfree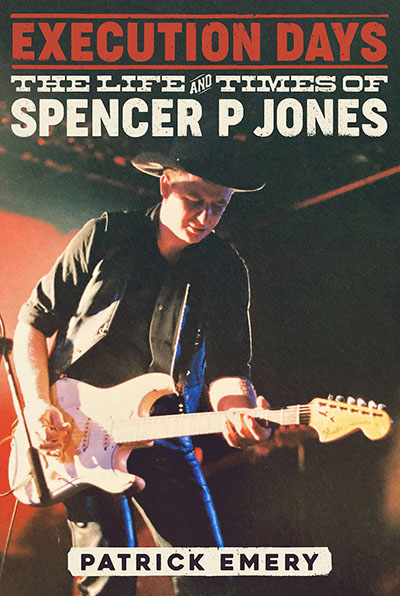 Execution Days: The Life and Times of Spencer P Jones
By Patrick Emery
Love Police
"Those who can make you believe absurdities, can make you commit atrocities.-Voltaire
"I was stripped of all my dignity, blackest clouds hanging over me, I just waited as the moments ticked away, it was like my execution day..." -Spencer P. Jones
"I thought, hold on, I've got a rock band around here some place!" - Tex Perkins
"Grief felt like fear" - C.S. Lewis
I WAS ALWAYS ON YOUR SIDE
Man I'm a little bit furious that those fucked-up Fascists at Facebook permanently locked me out and I knew it was coming, because I saw them doing all that same shit to all my friends who are antiwar, pro human rights and civil liberties, all us poor suckers who fell hard for all that phony shit they told us when we were growing up about the Bill Of Rights that they covertly dismantled but insist we still have, even though we very clearly do not, or anyone advocating for freedom for Julian Assange.
The bullshit fact checking, accusations of violating their so-called community standards, all that shit. I posted a lot of links to antiwar organizers and truth tellers who've been purged from Mocking Bird mass media. Zuckerberg and his Great Lockstep cronies decided it was better to purge some of us completely, rather than have us actively factchecking the factcheckers and pushing back against their dangerous bullshit police state narratives.
Thankfully, a very thoughtful and considerate friend thought to send me an electronic copy of a book I'd been yearning to read and I guzzled the whole thing down like a pint while I was unable to contact my comrades on social media.
Read more: SPJ bio reflects on rock and roll's underground glory days