Details

By

Flash Rebel

Flash Rebel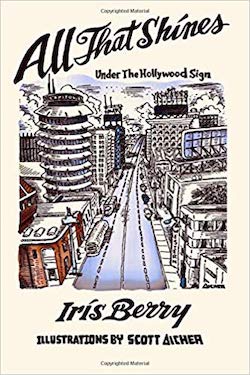 All That Shines Under The Hollywood Sign by Iris Berry (Punk Hostage Press)
"It appeared clear to me - partly because of the lies that filled my history textbooks - that the intent of formal education was to inculcate obedience to a social order that did not deserve my loyalty. Defiance seemed the only dignified response to the adult world."
- Timothy B. Tyson, Blood Done Sign My Name: A True Story)
"Most men today cannot conceive of a freedom that does not involve somebody's slavery. They do not want equality because the thrill of their happiness comes from having things that others have not."
- W.E.B. DuBois, Darkwater: Voices from Within the Veil)
"The fortunate is seldom satisfied with the fact of being fortunate. Beyond this, he needs to know that he has a right to his good fortune. He wants to be convinced that he 'deserves' it, and above all that he deserves it in comparison with others. He wishes to be allowed the belief that the less fortunate also merely experiences his due. Good fortune thus wants to be 'legitimate' fortune." - Max Weber
"A catalog of catastrophic events shaped our lives..." - Iris Berry
ALMOST GOLD...
Iris Berry is my favorite movie star. In my personal rocknroll pantheon, she will always be the queen of the Hollywood underground. Hard livin' hellion, heroine, helper, healer, auteur, essayist. She lived on 10, on full-blast, for a long time, and has written several riveting books about it, including "Daughters Of Bastards", and her latest enchanting collection of poetic reminiscing's, "All That Shines Under The Hollywood Sign".
Part of the reason she is always such a big hit on the spoken word circuit is because we are all getting older and are increasingly nostalgic for our own wayward punk rock youth, and therefore, love hearing those far out and heavy, true tales from her seen it all history, but also, because something about her speaking voice is oh so very consoling and soothing, it is a tender, understanding salve for the sad and lonely, and scarred for life, all 'us last of the last, limping landmarks and leather clad convalescents. She has a comforting presence, because she emanates real deep, genuine article beauty, from the inside out. We can all recognize her as one of our kind.
Details

By

Robert Brokenbmouth

Robert Brokenbmouth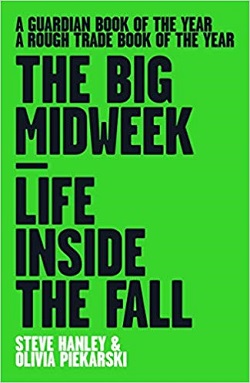 Have A Bleedin Guess. The Story of Hex Enduction Hour
by Paul Hanley (Route Publishing)
Straight outta ... Pontefract ... comes Route's latest (rather brilliant) publication. For what I suspect is a small publisher, Route (est. 2000) punch above their weight. This is their 10th music book - the third to deal mostly with The Fall and - gulp - the second by a Fall drummer.
You can snaffle Simon Wollstencroft's "You Can Drum But You Can't Hide" and Steve Hanley's tour de force "The Big Midweek. Life Inside The Fall" at Route's website, and Paul Hanley's "Leave The Capital" (a history of Manchester music and liberation) as well.
My copy's pink with black writing, and signed. Though I'd like to think you'd see this one in Dymock's or JBHiFi, don't hold your breath. I ordered mine, yes from overseas, and it arrived in a timely fashion, and much better wrapped than most books you order from overseas.
Which is excellent; particularly since it anticipates Cherry Red's upcoming '"1982" Fall box, the latter of which I expect I'll get to in due course.
Now, unlike his brother Steve, Paul Hanley approaches "Hex Enduction Hour" in two minds. The bulk of the text follows the obvious pattern: what came before the album, how the songs were put together, the context of the band in their time and so on. He approaches the album as a music historian, but is also able to correct wrongly-held beliefs (such as the likely identity of King Shag Corpse) with restrained glee, while inserting footnotes which reveal the bloke you want to meet at the pub. Rather puts me in mind of Terry Edwards' book on Madness' first LP, written for the 33 1/3 series.
Speaking of which, in the foreword, Stewart Lee (no, no idea) tells his sad story of wanting to write a book on "Hex" for 33 1/3, only to be rebuffed with the old "ain't commercial enough", a sad and common refrain to many an enthusiastic writer (if not fan).
Details

By

Robert Brokenmouth

Robert Brokenmouth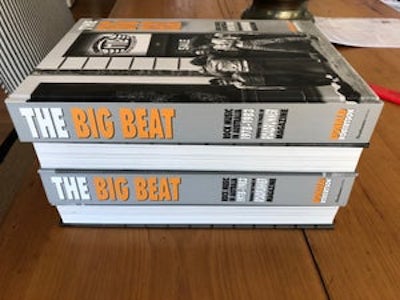 Book launch
The Big Beat by Donald Robertson and others
The Howing Owl, Adelaide
Wednesday, October r16 2019
Can't take Her anywhere.
We've just witnessed Donald Robertson, mainspring behind Adelaide's monthly Roadrunner magazine (1978-1983) be inducted into the SA Music Hall of Fame (the 111th member) by John Schumann (of Redgum).
Preceding that was a couple of short speeches (including one from Jim Kerr of Simple Minds), a rather entertaining Q&A chaired by Suzy Ramone (of, among many other things, the Molting Vultures), and prior to that much chinwagging by a bunch of old coots who hadn't seen each other in - literally in some cases - several decades.