Details

By

Robert Brokenmouth

Robert Brokenmouth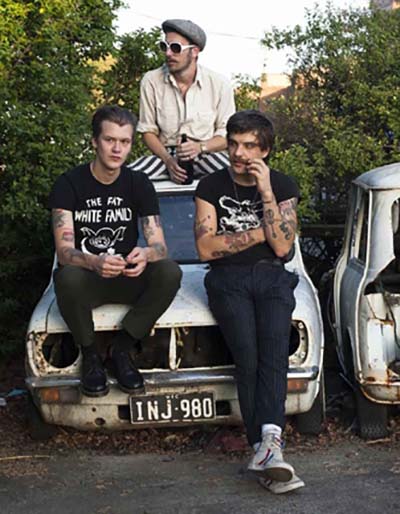 Remember ABBA? No, you probably don't want to, but there are a lot of reasons why you should. And I'll come back to this. For now, just remember ABBA.
Now, I've been wanting to see The Braves (pictured right) for several years now, and every time I've been near Melbourne they've not been playing. Finally (after touring Europe), they've decided to "do" Adelaide.
Apparently there was mulled cider available, which no-one told me about until too late. And while I missed the first act completely, and gasbagged in another room while The Howling Fog were on: but they sounded good, and people whose opinion I trust enjoyed them, so I'll have to check them out. They're on Facebook.
Details

By

The Barman

The Barman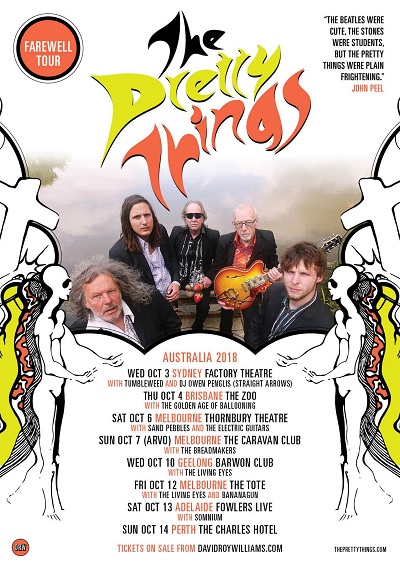 Iconic first wave British R&B and psychedelic cult heroes, The Pretty Things, will perform some of their final live performances in Australia in October.
The band has announced it will cease playing electric shows with a final hurrah in London on December 13, with special guests Special Guests David Gilmour, Van Morrison and Bill Nighy. Securign the Pretties for a run through Australia is a coup for promoter David Roy Williams.
Local legends – and massive Pretty Things fans - including Tumbleweed, The Sand Pebbles and The Living Eyes are onboard to help send them off.
The Pretty Things are waving goodbye. Be there to wave back....
Tickets are on sale from 10am (AEST) on Friday here.
Wednesday 3rd October - Sydney, FactoryTheatre
+ Tumbleweed + DJ Owen Penglis
Thursday 4th October - Brisbane, The Zoo
+ Golden Age of Ballooning
Saturday 6th October - Melbourne, Thornbury Theatre
+ Sand Pebbles + The Electric Guitars
Sunday 7th October - Melbourne, Caravan Club
+ The Breadmakers
Wednesday 10th October - Geelong, Barwon Club
+ The Living Eyes
Friday 12th October - Melbourne, The Tote
+ The Living Eyes + Banagun
Saturday 13th October - Adelaide, Fowlers Live
+ Somnium
Sunday 14th October - Perth, The Charles Hotel
Details

By

The Barman

The Barman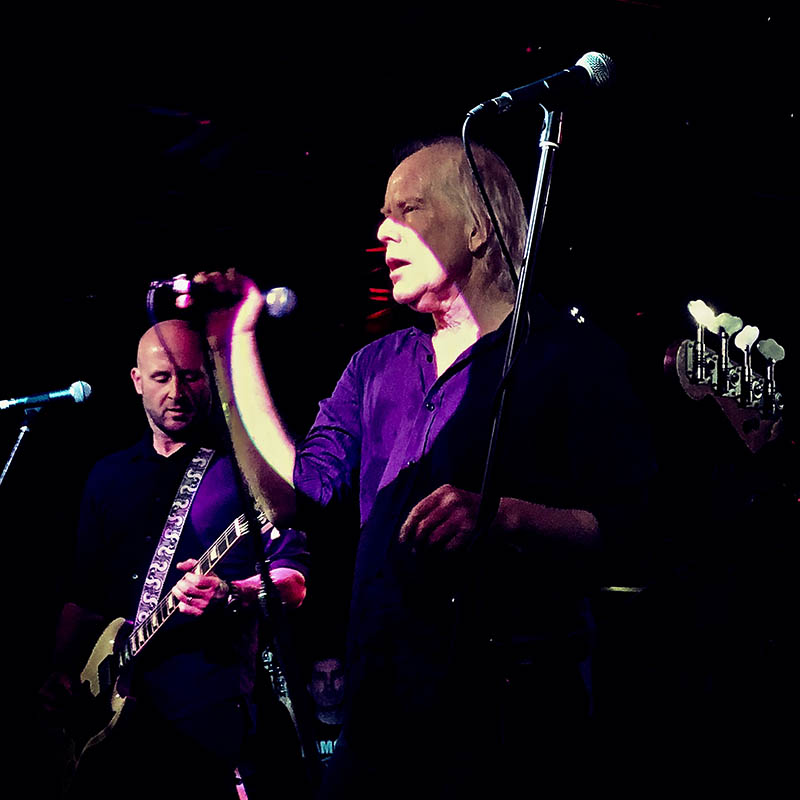 Dave Kettley and Rob Younger marshalling the New Christs at Marrickville Bowlo on Saturday night..
Sydney, you're such a contrary beast with this live music thing. And you fucking know it.
A year ago, this same bill of the New Christs and Melbourne's James McCann and The New Vindictives pulled close to a full room at Marrickville Bowlo. This Saturday night, the place isn't empty by any means but the head count is much lower.
Was it the cold weather? HTFU! It's winter. Maybe a spot of fatigue with great rock and roll shows seemingly happening weekly? For sure, we've been spoilt. It was also the third New Christs appearance in these parts in as many months. if you were one of the waverers that stayed home, it really was your loss.