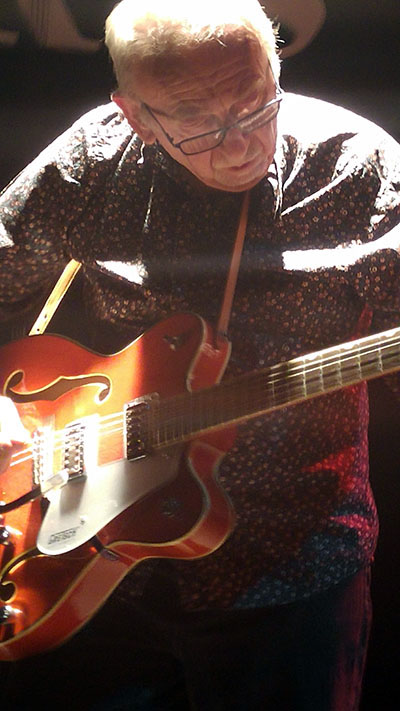 Vic Conrad's band The First Third has a drummer who plays hard and owns the kit, a guitarist who knows how to dance in and out of a tune, a bass player who, like Vic, runs a record shop.
Vic himself sings, plays guitar and two keys. They're really damn good. Sixties structures sieved through to now. Apparently they'll have a new CD out soon.
But I'm here to see the Pretty Things.
As I left, the two original members and one of the more recent recruits were answering questions and signing merch, while the bassist and drummer were chatting at the exit with assorted fans. This is a band who are comfortable with their crowd. Because, to them, they're not that far removed.
Let's get rid of the "original members" thing. Like a lot of bands who came up through the R & B scene in the 1960s in England, not only was their lineup not always been stable, some of the band were linked to the Rolling Stones and Pink Floyd and god knows who else.
Phil May, the vocalist (looks a bit like a movie star) and one of the band's songwriters, is one of the two members who've stayed the distance. The other is the incomparable guitarist Dick Taylor, picured right.