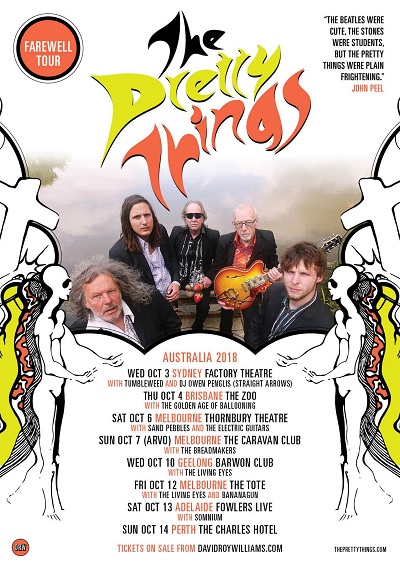 Iconic first wave British R&B and psychedelic cult heroes, The Pretty Things, will perform some of their final live performances in Australia in October.
The band has announced it will cease playing electric shows with a final hurrah in London on December 13, with special guests Special Guests David Gilmour, Van Morrison and Bill Nighy. Securign the Pretties for a run through Australia is a coup for promoter David Roy Williams.
Local legends – and massive Pretty Things fans - including Tumbleweed, The Sand Pebbles and The Living Eyes are onboard to help send them off.
The Pretty Things are waving goodbye. Be there to wave back....
Tickets are on sale from 10am (AEST) on Friday here.
Wednesday 3rd October - Sydney, FactoryTheatre
+ Tumbleweed + DJ Owen Penglis
Thursday 4th October - Brisbane, The Zoo
+ Golden Age of Ballooning
Saturday 6th October - Melbourne, Thornbury Theatre
+ Sand Pebbles + The Electric Guitars
Sunday 7th October - Melbourne, Caravan Club
+ The Breadmakers
Wednesday 10th October - Geelong, Barwon Club
+ The Living Eyes
Friday 12th October - Melbourne, The Tote
+ The Living Eyes + Banagun
Saturday 13th October - Adelaide, Fowlers Live
+ Somnium
Sunday 14th October - Perth, The Charles Hotel