Heart Beatings - Midnight Crisis (self released)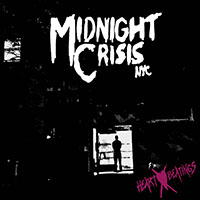 Everybody's heard the rumors about a seedy gang of leather clad strangers seen obscenely strutting up and down the boardwalk, right around the time that all those teenagers started going missing from the amusement park and comic book shop, on the shore, like some ageless, '80s hellraisers, who refuse to die.
Some believe those kids joined some hard partying Ricky Kasso hesher-cult, many have even claimed some second hand knowledge of a fire flickering batcave filled with opium den antiques and gypsy tapestries and a big blacklight poster of Jim Morrison, reptiles abounding...
I, personally, suspect it's all just a big conspiracy theory, the stuff of urban myth, bored kids with overactive imaginations, who have spent to much time watching zombie-hunter shows on cable, reading that "Twilight" book series, and chatting about Slenderman and Bigfoot and Anne Rice stuff, online.
As far as all these second and third hand accounts of some ill tempered Billy Idol, Sean Penn, and Greg Steele lookalikes, intimidating people at the Fortune Teller's place near the old arcade, all I can say is, I do recall this one suspicious character, riding the ferris wheel, with a sinister look in his eye.
Downtown DJ/bartender type-you know the kind: skinny jeans-morbid and pale, blue/black hair, fingerless black gloves, chipped black fingernail polish, brothel creepers. Clockwork Orange bowler hat, impressively studded leather jacket with the Damned "Phantasmagoria" logo on the back. Played drums in one of those Bowery Electric, Post-Strokes and Star Spangles NY bands, the Dirty Pearls. Worked with Peter Fonda, Lady Gaga, Martin Scorsese, Alex Mitchell, corresponded with disreputable old fanzine writers with dubious pen names, and consorting with shifty Canadian rockstars, like 39 Steps and Pillbox singer, Chris Barry.
What was that guy's name, again? Endless Party...Marty. Yeah something was not right about that guy, he just gave me the creeps, something unnerving about that boozy bastard. I think it mighta been this one time, I was sittin' there, at the end of the bar, mindin' my own business, trying to get a refill of Maker's Mark, while he was busy entertaining this bevy of buxom bombshells with some longwinded story about Tony Bennett and Yana Ya Ya and Davy Vain, and I swear, the blue eyed devil, he had no reflection in the bar room mirror. Maybe I was hallucinating, maybe it was all a dream. I used to drink some, back in the '80s. But I always had a feeling...one way or another, I'd be hearing about that guy, again.
Fast-forward to this dystopian-stormtrooper-cyber-nightmare age, and right exactly as I'm gettin' more than a little tired of rightwing Masonic country singers and slutty-robotic techno-android house muzak shit, dumbing everybody down, and badly sound tracking the dull-witted dehumanization of the poor, at the hands of the fascistic, greedhead gestapo, I unearth this sonic time capsule that is, Holy Smokes Pure Dynamite From Somewhere Over The Rainbow Bar & Grill, Beyond the Halfway Valley, In The Faraway Mythical Mystery Cities Of The Unconscious Boys, Who Disappeared....
And so, it is with great delight and satisfaction, that I can herald the gloriously triumphant arrival of natural born rockstars, MIDNIGHT CRISIS. I can neither confirm nor deny that they might be the very same crew of sneering, crossroads apparitions accused of stalking innocent cotton candy girls at the pretzel stand, vapor store, and Tilt-A-Whirl, but I can assure you their dynamic, energetic tunes will bring back an unholy floodland of memories, if you wore rosaries, heavily abused styling products, and listened to Lords Of The New Church and Specimen, The Fields Of Nephilim, and Zodiac Mindwarp, like I did, back in the better days, before the wars.
This brooding band of angry scuzz-poets play a throbbing, ominous, non-stop erotic cabaret, red-light district style of nihilistic, long forgotten, infectious death-punk, that is a live wire throwback to the fetishistic, androgynous, plastic fantastic, gothic '80s.
Mick Mercer used to write books about guys like these. Remember "Propaganda" magazine? These pasty predators put the "CAN" back in candy, they write songs for indomitably defiant strippers to pole dance to, they are hedonistic provocateurs, they've never met no booze or pills or powders they did not like, they ALWAYS took candy from strangers, they've never heard the word impossible, they've never seen the light of day.
Some have said Marty E looks like a debaucherous cross between Nicole Kidman and Wayne Hussey from the Mission U.K., he variously growls and roars like Trent Reznor, Ronnie Sweetheart, Glen Danzig, or a maybe somewhat, more optimistic, mascara'd, Mark Lanegan. If you remember the halcyon nights of Halloween Past, the insistent, coffin kicking, ravings of ghoulish all night prime movers from Bauhaus to the Bolshoi, from the Ultras to 69 Eyes, this is the band with the bandannas you were waiting for.
His old bio claims he grew up as an affable, All American, mild mannered, polite kid in a big military family from snowy Minnesota, listening to KISS and Hanoi Rocks and Dogs D'Amour and Mother Love Bone, before wisely relocating to Manhattan and helping to bring some actual genuine panache and spontaneity, pizzazz and personality, and reckless fun to the tragically gentrifying, downtown at dawn dropout night club scene, there, but many speculate he seems much older than he claims, he has an almost ancient, retro countenance, like he's been around for hundreds of years.
I just notice how he seems to always abruptly vanish, whenever I bring leftovers from Little Italy to the bar with me, like he's got something against pasta and garlic bread, or something! 'Keeps staring uncomfortably at my crucifixes, like they cause him some degree of physical pain. Something is wrong with that guy. I mean, what's with the cape?
If there was still an actual American music business, beyond, you know, the big-machine, fake propaganda, muzak-pop, weaponized by one percenter corporations to promote the police state and endless war and deceive and distract we, the dopey people, MIDNIGHT CRISIS might be gracing the airwaves with their incendiary glam for the damned, a highly visual, commanding, multi-media spectacle hybrid of Bukowskian sleaze-metal and theatrical, impactful, Suicide psycho-punk, instead of all that insufferable name brand unreality television and crassly commercialized, lifestyle programming, manufactured celebrity, dogshit, we are subjected to, currently. Never Mind The Master Chef cooking shows. Turn up the jams, thank you ma'am.
Marty E. has been a rocknroll sensation for years, as a drummer, and popular Lower East Side scene maker, but few suspected this Internet superstar and shadowy after-hours phantom of the downtown dive bars was also such a highbrow and artful auteur, an able songwriter with some impressively descriptive lyrical finesse, and(!) an extravagantly capable front man, brimming over with literary inspiration and glam dandy sophistication, hypnotizing audiences with his rakish, Nosferatu charm. Who knew he could sing?
"Take Control" kicks off with a martial drumbeat reminiscent of all the big haired, big sky, bandito "positive punk" bands from our '80s youth, instantly making me think of the Alarm, or Big Country, or Southern Death Cult, before descending into the inferno with some fiendish Tom Waits like vocalizin' and deviant electro guitar strangling, kinda like a latter-day Guns N Roses, but mercifully, without the high pitched screeching.
"Dangerous" reminds me of Joe LeSte or Billy G. Bang-pink leather, chips, dips, chains and whips, The Dominatrix Sleeps Tonight, the Leather Nun, and helplessly shitfaced, Scrap Bar, blastoid gutter crawling in the glitter daze.
"Sister Vicodin" is a sexy, soulful, sullen, and heartfelt lament, very much in the same vivid spirit as some of those early and unreleased Shooting Gallery demos. Too scuzzy to be a power ballad. Think: Kill City Dragons meets Skid Row. "It's Midnight Somewhere" is catchy, edgy, post-punk pop, a la Billy Idol, Charlie Sexton or Flesh For Lulu, that really effectively showcases Marty E.'s raunchy baritone and his heroic guitar star/sideman extraordinaire, Lase's very distinctive and unique, infinite-guitar pyro that is very much in the Rebel Yellin' spirit of Steve Stevens or Cobalt Stargazer-Lookout! Rockers Goin' Star Wars!
"Kiss My Apocalipps" is an epic appeal to fans of Sisters Of Mercy's masterpiece, "Vision Thing", and Dead Or Alive, and Sigue Sigue Sputnik, and the Cult. Singalong superfun intended to be played top volume on really outstanding night club sound systems.
"Lost & Found" is all about snarling L.A. Guns dudes in cop hats and bullet belts and silver spurs. You know-firework guitars, pounding garbage cans, sirens, hookers, body-painted vixens in go-go cages, bad attitudes, parties in the cemetery, mopey dudes with spiky hair, motorcycle cowboys whose images inexplicably do not appear in the reflection of the liquor store windows.
"Bloodbath Wine" is a barbed wire crowned, pop hit like Jim Thirwell covering some long lost Rowland S. Howard track. "Make It Alright" is a deadtime lullaby for the haunting souls who walk among us us...all those rumpled hatted, despairing, doomed dreamers who were too fast for love and too tough to die and are now cursed to wander these lonesome streets as Lip-Service wearing, biker booted, hungry ghosts.
Lase, powerhouse drummer Michael Menza, bassist Gary Hewes and the mysteriously maudlin and melancholy and sometimes macabre dark magician, Marty E., have brought a sound, a style, a whole bloodshot, moon soaked, underground subculture, back to life. It's ALIVE! They are shaking the cobwebs and rigor mortis offa the mummified rock scene and bringing back 45 Grave style decadence, Motorcycle Boy elegance, and All Aboard For Funtime danger.
MIDNIGHT CRISIS are the most exciting new band out of NYC in a long time. The charismatic Marty has perfected his suavely Presleyesque, black leather legged, Jim Thirwell/Nick Cave/Ian Astbury/Andrew Eltrich synsthesis, by turns, barking like a biker barbarian, or crooning like a satanic seducer setting a mood by black candle light, he's equal parts "Weird Science" and "The Lost Boys".
MIDNIGHT CRISIS will be embraced by old fans of Depeche Mode and Red Lorry, Yellow Lorry, Gene Loves Jezebel, and early Ministry, for their sensual melody and graveyard atmospheric, bright starred melodrama....as well as all of us last standing, longhaired, skull ringed, whiskey sodden, hard rock enthusiasts who like Marilyn Manson and Backyard Babies and Black Halos and Faster Pussycat. Midnight Crisis have something for everybody. Even if they are purported to sleep upside down.





MIdnight Crisis on Reverberation

Buy it at Bandcamp

Marty E on Facebook
Tags: nyc, midnight crisis , new yok city, dirty pearls, marty e