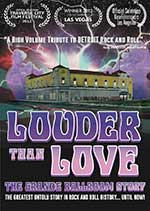 Seismic changes in music don't occur spontaneously. They're usually a result of people unwittingly being in the right place at the right time, running into a catalyst and stumbling over a big stockpile of serendipity.
Does anyone think CBGB would have been anything more than the source of dogshit on the soles of a few Bowery bums' shoes if Hilly Krystal hadn't been conned by a supposed bluegrass band into giving live music a try?
How quickly would the Sex Pistols have fizzled out if Queen hadn't cancelled on Bill Grundy at the last minute, presumably so Freddy could get his nails done? McLaren had no more planned the TV outburst that propelled his band to infamy as Steve Jones had sworn off the booze.
In 1966, a former dance hall on the shady side of Detroit called The Grande Ballroom became both a focal point for the counter culture and a scene. It attracted and generated a strain of high-energy, blue collar rock and roll, the likes of which have been seen rarely anywhere else. It came into being through good management, but also through incredible luck.