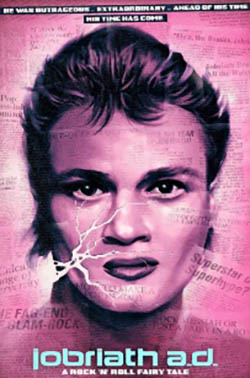 JOBRIATH A.D. (2002)
Written, produced and directed by Kieran Turner
Weird times we live in, to paraphrase John Waters. We've gone from people rebelling against rules, to becoming fanatical lil' rule-mongers, themselves. That's some crazy shit, and you gotta wonder what's up with all that.
Probably the most moving film I've seen since "Beautiful Darling", the also poignant Candy Darling story, is "Jobriath A.D." You might know he was one of the first openly gay, glam, wouldbe seventies rock stars, who was first discovered whilst singing in the Broadway play, "Hair". In the hippie dippy era, he made a baroque pop album with a band called Pidgeon. He was drafted by the army, went AWOL, and did time in a military psychiatric facility. He came from a tragically broken family and his mom never fully accepted him, because of his sexual identity which caused him acute pain. He was a really sweet, upbeat, positive force as a young person, a painter/singer/composer/piano playing prodigy but the cruel music industry weasels around him kinda turned him more cynical and sad, almost overnight.
He was living in an unfurnished squat in L.A. as a male hustler when it seemed he was rescued by a huckster manager famous for nightclubs in NY named Jerry Brandt-Brandt overhyped Jobriath as the next Elvis, Beatles, and Bowie all rolled into one. He appeared on oversized billboards in Times Square, in splashy magazine advertisements and on the sides of buses in major cities. He had a cool live band actually, called the Creatures, with some kooky costumes by Stephen Sprouse.