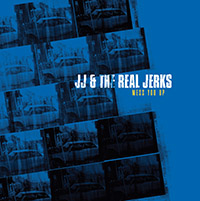 Mess You Up – JJ and The Real Jerks (Heavy Medication Records)
The lines are so blurred these days that you can't guess where most bands applying a defibrillator to rock and roll's ailing heart come from. So-called scenes are fragmented and the means of production rest in many sets of hands, thanks to technology and the information democracy of the Internet.
Wind back the clock a couple of decades and JJ and The Real Jerks could be from snowed-in Sweden or inner-city Sydney rather than sprawling Los Angeles.
This 12-inch, eight-song EP is razor sharp, fun garage rock and roll in the style of The Hives crossed with Dead Boys. Big twin guitars and occasional sax punctuate the songs, which throw up plenty of hooks.