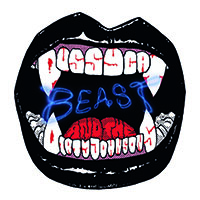 Beast - Pussycat And The Dirty Johnsons (Hound Gawd)
There's more fuzz on this than a box of rotting fruit in a share house kitchen. Two guitars, drums, no bass, simple punk rock songs and Puss Johnson's tuneful, yet in-your-face, vocal is a monstrously good combination.
"Beast" is 12 songs by a UK band with a venomous sound on a German label. Who says Brexit is a thing?
The back story is that guitarist Dirty Jake formed the band in 2002 but it took eight years to find Puss Johnson's vocal and a more or less settled line-up. Two years later, their bass player was given the flick and The Dirty Johnsons continued as a trio. So they pre-date Amyl and The Sniffers - who are an obvious comparator - by a fair stretch.