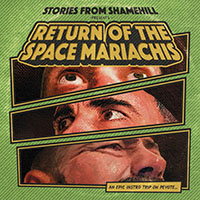 Return Of The Space Mariachis – Stories From Shamehill (self released)
Surf-tiki rock from the Netherlands? I'm in. Let's face it: stranger things happen in Amsterdam - usually involving special cakes sold at coffee shops - and this trio of reverb-obsessed retro heads is nothing if not inventive.
With assistance from The Hot Habanero Horns (actually two horns and a harmonica), Stories From Shamehill worked up their second full studio album over five days in 2021 and it's a barrel of fun.
The Stories have been riding their surf wave since 2012 and have even managed to tour and record in California. Talk about taking coals to Newcastle…