Bored! lost tracks pre-empt re-issue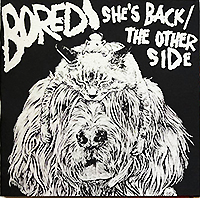 She's Back b/w The Other Side – Bored! (Fantastic Mess Records)
Discerning people like their diamonds ijn the rough. These are cast-off gems from Bored!'s "Feed The Dog" album sessions, released on a short run 45 by Fantastic Mess in the run to their re-issue of the 1991 record on vinyl. It's the three-piece version of the band, led by the late Dave Thomas.
"She's Back" sits back on the groove and shows off Thomas's singular guitar tone. The vocal is buried deep in the mix but audible enough to give you the idea. Keep it sleazy! "The Other Side" is an obvious nod to Dead Boys with more steamroller guitar and a tsunami-like feel from the ending room propelling things along.
Issued in clear and pink vinyl (the latter is already sold out) with the usual Fantastic Mess trimmings of inserts, sticker and postcard, it won't be around long. Glenno Smith's stark artwork suits it to a 'T'.


Tags: bored!, the other side , fantastic mess, geetroit, she's back