Just hanging out in the Singles Bar...
"Giant Lizards on High" b/w "Fresh Meat for Martyrs" - Blurt! (Sartorial)
"Insomnia" - Mark Steiner and his Problems b/w "Six Feet Under" - Mark Steiner and his Problems with Line Saus (Rabben Records)
"Urge" b/w "Milk and Metho"/"Crash"/"318" - The Nuclear Family (Urge Records/VS)
"Knife Edge" - The NJE b/w "Caesar" - Dear Thief (Sartorial)
Today I'm listening to a few singles (instead of cleaning the house for an inspection). Sorry, that's the small vinyls that play at 45rpm.
OK - "records" not "vinyls".
Now, the beauty of singles is that they carry a stand-alone song, in a format which forces you to pay attention to that one song. For a low-level label or a low-level band - no matter what the rep, you're only as big as your last gig - the single is a signpost, a statement, a declaration of intent.
Look at this. We coulda knocked Pink off her perch. We're contenders.
All fantasy, perhaps. But the single can also be a harbinger of discontent; two singles followed by a killer LP, that's the way to go. If you can pull it off, that is. Truth is that many bands simply emerge from the shadows with a single, and vanish back into the murk. And when I say 'murk', I mean of course other countries. Because, when a brilliant independent single from Portland or Bochum turns up at Porthole Records in Port Adelaide, and I buy it ... that might be all I can ever find out.
For example, take the brilliant UFO Zion or the astonishing My3Yeah (no, me neither, not until I'd heard them, then I was all over the Net, not finding the bastards except on their Reverb Worship label (pester Roger Linney on Facebook for more, or go here). Frustrating beyond belief. Now Reverb Worship put out CDs, not singles, of course, but the point remains: brilliance popping out of nowhere and vanishing back as fast.
Some live bands do this - Adelaide's Ribcage Wrestlers played more times on their Melbourne tour than they did in Adelaide, and promptly broke up. If anyone has a recording from the radio in Melb, please send me a copy. I doubt the band has any either.
Sartorial Records (of London) put out CDs, but also ... records. Like many small labels, a swag are ordered from the pressing plant, and most are sold. Some few remain at the label, because somehow people think, 'Oh, I've missed out, they must be all gone by now...'
Horseshit. Always pester the label and see if there's something hiding forgotten in their warehouse. Even if the website says 'sold out' it costs nothing to politely ask. With Sartorial, you could get these uniquely gorgeous creations.
So, having recently been obliged to turn my room upside down, I discovered a bunch of singles I haven't listened to above once. Since I'm sure you've never heard them, the fact that they're not immediately recent doesn't really figure. With the Sartorial releases, I doubt Terry has many left but they're still listed on the label's website - so go get 'em. If there ain't enough left to satisfy demand, tough shit.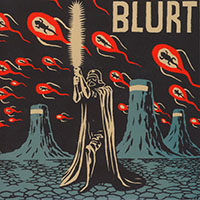 First up is Blurt!
Blurt! is the brainchild of Ted Milton, a rather hypercreative character who seems to have stayed remarkably close to his inspirations. I first became aware of Blurt! (I love writing that name) in about 1981, in the Brit music papers. And was curious. But little ever came out to Australia despite a slurry of vinyl releases ... and now..? His website shows him in three separate roles - poet, sax player, and .. erm. Punch and Judy puppeteer. And realistically, that's just the tip of the iceberg.
Blurt! are touring Europe later this year, have an early LP released for the first time on CD and a new live LP out on Metadrone Records (and CD on Salamander Records.)
Is it any good? Oh, god yes. Wrap a knowledge that the real world is at least as daft as the more loony conspiracy theorists would have it and give a sax player who likes the off-beat notes in between dark chanting and you have it. It's brilliant. The A-Side plays with the notion of giant lizards ruling the earth from cunning fronts such as the CIA, while the B-Side is a rather extraordinary ska-esque jaunt with Milton's wonky, emotive sax generally making you either dance or shove your fingers in your ears; Milton loves tweaking cliches, in such a way that they either become more real and relevant, or that they're demolished. The man's mind is a steel trap and we, frankly, are as rats to the bits of cheese therein.
Blurt! Blurt! Blurt! Blurt! Blurt! Blurt! Blurt! Blurt! Blurt! Blurt!
Brilliant name for a band. And I put "therein" into a review. Five Martinis.


The Mark Steiner/Line Saus single features the same band on both sides; Ted Parsons (he's played with Prong, Swans, Godflesh and Killing Joke) is on drums; bass is Leon Muraglia (Radio 9, Salvatore) and second guitar is Romek Paluch-Edwards ... it's a hell of a combination.
Line Saus (from Pulp Vixen, it says here) lives in Tromso. That's a damn long way north, look . Saus' vocal is arresting and will remind you of Billy Holiday. The music is a slow, grooving burn. "Six Feet Under" is a glorious murder ballad, no other term for it: "The more I try to please him the more he gets stranger ..." Steiner's occasional vocal counters Saus' and makes the song that much more powerful. Comparisons with Cave are inevitable, but I'd say I enjoy this a lot more than what he's been up to recently - and so will you.
Here's the (made by Saus)
"Insomnia" is almost a return to Steiner's wild rawk'n'brawl past in the mucky crevices of NYC's underground. His guitar is kinda dirty, but soars and struts. You'll hear a touch of Rowland S. Howard, but don't let that turn you away. It's a big, ruff'n'tuff munchkin of a track, you'll dig it.
Mark hasn't released an LP since 2014 ("Saudade"), and if these two tracks are any indication, we're in for quite a treat.
Get yer 7" here or here. They won't last.
1/2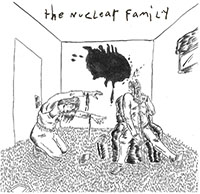 Can't recall how I came by the Nuclear Family 7", nor how you can get a copy, and there's not enough information out there on the band. "Urge" is a brilliant punk EP, glittering gnarly stuff, utterly brilliant. You'll hear hardcore Eighties stuff but that's not all. They push buttons and push against the pill container. Beats the shit out of quite a lot of the hallowed early bands of that ilk, too. It's fucking great.
JJJ's site explains that they were "originally from Wollongong"; Jai Love, Grace Pogonoski, Corey McCrossin and Jason Kirrane are the individuals responsible - this is useful as there's no other details on the EP.
JJJ goes on to explain that they've "toured Australia, playing with bands such as The Drones, Regular John, Dappled Cities, Harmony, Shining Bird, DEAD and Die! Die! Die! They have also played with international acts Hunx and his Punx (USA), The Coathangers (USA), Die! Die! Die! (NZ) and Truckfighters (SWE)."
I'm assuming the band are no more, and that's a shame because this is one exploding, exciting EP.

The Near Jazz Experience (ie, the NJE) single comes with free matching beermat. I'm excited.
What's the point of having your own record label if you can't put out your own band's stuff? Terry Edwards (usually regarded as a horn man, last seen in Australia as part of P.J. Harvey's band) is the man responsible; his outfit, The Near-Jazz Experience includes Mark Bedford (aka 'Bedders', the bassist from Madness and the Lee Thompson Ska Orchestra) and Simon Charterton (the drummer from The Higsons).
Now, all of these chaps are veterans. Which, as you know, can go either way. Thankfully, The NJE are one groovy, heavy knockout outfit.
"Knife Edge" simply rocks and bops in the right way. It ain't no laid-back thang, but a leery, beery, spill-your-pint-on-total-strangers call to arms (and a hangover cure). Absolutely bonkers, but somehow in control. Forceful, scraping and magnificent. And the crowd love it.
If you ain't heard Dear Thief, you're missing out. That's all you need to know, really. Hard, powerful, heavy, and holy fuck, Batman. "Liquidhip" describe them as an "impossibly eclectic art rock band out of London. They are either one of the most original bands you've ever heard or a swirling thump and buzz of barely listenable rhythm and noise."
I can't better that, other than to say that, perhaps needless to say, I love them enormously. Like The NJE, they're a three-piece; Yusuf B'layachi is on vocals and guitar, Tim Greany is on drums and artist Emma Bennett is on bass. They sound a bit like Gallon Drunk might, if they were attempting to clear a room and get at the rest of the rider. The crowd love them as well. I've got their LP, and I'll introduce you to it later.
What a fucking amazing single!


and a beermat.
Tags: mark steiner, the nje, blurt!, line saus, the nuclear family, dear thief