London calling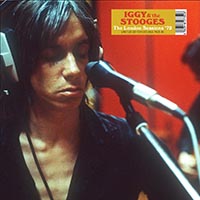 The London Sessions – Iggy & The Stooges (Easy Action)
This is something for the Stooges obsessives rather than newbies looking for an entry point. But if the newbies take the plunge, is that going to ber such a bad thing? This is s a double-seven-inch pack of five songs from the 1972 pre-production and recording sessions for "Raw Power", none of which made it to the album in these versions, and all celebrated in true Easy Action style.
There's plenty you won't have heard here even if you have the Easy Action "Heavy Liquid" box set. In fact, only one of these versions ("I Got A Right") has been offcially rleleased; "Tight Pants" is a Scotty and James instrumental run-through of what would become "Shake Appeal". "Gimme Danger" is an early version of the album track that still resonates.
"Death Trip" is not as frenetic as the final version but is a tightly coiled ball of venom nevertheless, with a lyrical variation. "I Got A Right" has a divergent but still savage lead guitar break to the final take, and "Search & Destroy" features fewer Williamson overdubs and a fade out.
The gatefold package is nicely illustrated and the CBS labels are a sweet touch. It's another reminder that while most of the boys aren't with us, we're still living through a Golden Age of Stooges releases and we should all be grateful.
Tags: raw power, iggy & the stooges, iggy and the stooges, london sessions