Not to be sold short, The Not Nots make their mark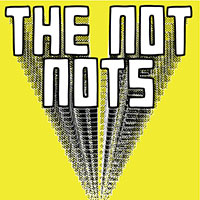 The Not Nots – The Not Nots (Outtspace)
Saw this Newcastle, NSW, band of older hands at a gig in their hometown and they impressed with their economic, garage-y tuneage after a shaky start hampered by minor sound problems. The venue shut down the headliners early thanks to a non-communicative dickhead from a booking agency but that's another story. It's fitting, therefore, that this EP crams six of songs onto a slice of seven-inch vinyl.
The Not Nots are a trio of Anthony Dean (guitar and vocals), Blake Doyle (drums) and Chris Ryan (bass and vocals) and (like the venue operatots that night) they are fans of brevity.
"Hey Hey Hey" is a minor key opener that reeks of grunge. The staccato "Give It Away" throbs with energy and recalls the post-punk sounds of the UK when the first and second wave of punk had receded. Muffled guitar gives the Husker Du-like "What You Don't Know" a strangled demo feel that works in spite of itself.
Flip it over and "Default" sounds like Fugazi without that band's tension. "Small Children (Are The Apocalypse)" surges along with grim chord-age leavened by a surprising "ooh-la-la-la" chorus. "The Little Time We Have" has a chord progression that sounds like it was swiped from Bob Mould when he got airplay. There's not much of it but what there is sounds good before it runs out of runway. Another winner fromn the folks at Outtaspace.


3/4
Tags: newcastle, outtaspace, the not nots