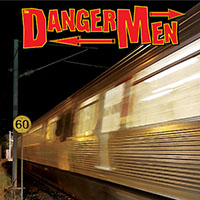 Wrong Train Home b/w Quicksand – DangerMen (Swashbuckling Hobo)
Lovely and raw. You do know those two words go together? This return 45 by Brisbane's DangerMen after a five-year absence is as ragged as Grandpa's undies after an unfortunate late night accident on the way home from the pub, with a sound that's more than a little Stooge-efied, thanks to some single-note piano and Dr Rock and Dover's "Raw Power" guitars.
"Wrong Train Home" is about an ill-fated train trip while tripping, and sounds like what health professionals these days call "a lived experience". Zoltane the Maniac's wail is both wrong and just right. Flip him, Danno, and you'll sing along to "Quicksand" which, it must be said, is more of the same. Not that there's anything wrong with that.
Buy it as a download if you must but drop some cash on the seven-inch here and you'll get something that'll last almost as long as herpes.