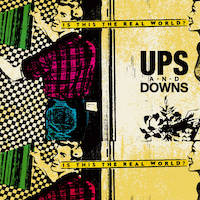 The Real World b/w Closer Still - Ups and Downs (Basketcase Records)
Two old songs given the re-recording treatment and issued on seven-inch vinyl. It's well worth your time, energy and modest pocket money to seek and procure. The A side (aka the Upside) was a cassette-only release from 1983, and it sounds just like the band did back then i.e. melodic and chiming. Urgent guitars, courtesy of John Flade and Peter Shaw, power the song with a great soulful vocal from Greg Atkinson.
Flip it over when it's done and the previously unreleased song "Closer Still" in freshly-recorded form switches the mood momentarily to subdued reflection, before breaking into a canter. The Sunnyboys-style harmonies and soulfulness again stand out.. Grab it digtlally hereor seek the physical product via your store of choice. Google won't let you down on that score.
1/2