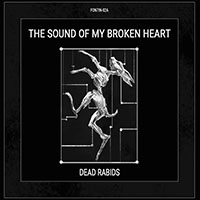 The Barman has already reviewed "The Sound ..." EP, but I thought I'd have a listen as well.
"The Sound of My Broken Heart" leads and it's a firmly-driven tubercular guitar snarl which allows Bob to vent in his rather strangulated vocals. I was never able to see the Dead Rabids, unfortunately - and I suppose that's the thing we find to our horror as we get older - other stuff gets in the way of us getting out the door.
There are about five or six local bands I enjoy seeing, and if I were able I'd be at pretty much every gig. Did the Dead Rabids deserve that kind of love? I've no idea, but "The Sound of My Broken Heart" is, as the Barman says, a stone cold classic. Buy yourself admission and freak people out when the track comes up on your mix cd in the car (no, I won't buy a car without a CD player) or your (snigger) mix stick - "My god," they'll squeak, "What's this?!"