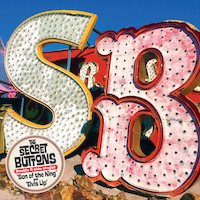 Son of The King b/w Elvis's Lip - The Secret Buttons (Fancy Time Records)
This is an offering from a Perth trio that's a couple of years old and came out a similar period after the very cool debut EP of 2016, "Some Buttons Should Never Be Pushed". It's a savage beast of a seven-incher, a two-headed behemoth that's equal parts ragged and righteous.
"Son of The King" rides a rollercoaster riff before an affirmation of superiority befitting someone who's lucky enough to drive a Chevrolet. There's enough bravado in this one to rival, oh, the Psychotic Turnbuckles, even if it is tongue-in-cheek. Set against a grinding feel, the tough rifferama really lights it up.