Thee Cha Cha Chas deliver the fuzzy goods with new EP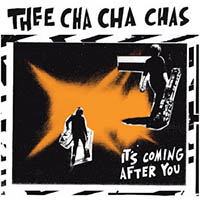 It's Coming After You EP - Thee Cha Cha Chas (Outtaspace/Hogwild)
It's a barrage of rough and raucous rock and roll from this one-woman-one-man duo out of Melbourne. Four bracing songs on a seven-inch that sit comfortably in the garage-punk oeuvre without breaking down any barriers. Distortion and dual vocalising, done right.
Thee Cha Cha Chas are Lluis Fuzzhound (also of Intoxica and Midnight Woolf - guitar, drums and vocals) and Kylie Kooks (bass and vocals), and they've been carving a place on the Melbourne band scene for about five years. A big burst of touring over 2019-20 had the spreading their word further afield but with that not currently an option, this vinyl EP will do. The title track articulates these crazy times.
Labelling an A and a B side can be a fraught concept in the digital era with the consumers having no respect for format, but "It's Coming After You" is strictly vinyl so don't expect to cherry-pick songs by downloading them indvidually. My own call is that the two tunes on the flip ("Day is Done" and "Midnight Bus") edge out the title track and its companion piece, "Worried Sick", for impact, but it's kind of a moot point. In the end, it's all lo-fi goodness. And I've just learned that "Midnight Bus" is a cover of a John D Loudermilk song.
Sam Agostino (Digger & The Pussycat) did the mastering thing so that should give you a hint of what to expect. It's available from Outtaspace's shop. Don't be tardy.


Tags: outtaspace, la bastard, thee cha cha chas, lluis fuzzhound, kylie kook