Time's march doesn't dull the edge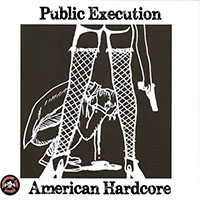 "American Hardcore" b/w "The Deal" (Swashbuckling Hobo)
That these reformed second-wave, southside Brisbane punks actually manage to sound dangerous on new recordings made four decades later comes down to the fact they were more of a Flipper-meets-latter-day-Black-Flag-styled grind than a cheap Pistols take-off, before - in the words of their label - "drugs, death and depression took over", and they dissolved.
They reformed, more or less intact, a few years ago to play live and promote some re-issues, and these songs are the fruit of a studio session.
Terry Deverey's doom-y vocal quaver and Steve Playford's focussed and angry guitar carry the very basic title track. Drummer Fred Noonan (of Six Ft Hick) keeps it simple and the recording pacvks considerable punch.
Some Playford sustained feedback and a Devery drawl announces "The Deal" which evidently relocates Lexington and 125 to Brisvegas. You may very well prefer brownstones to wooden Queenslanders but either way, it all sounds seriously fresh.
1/2
Tags: swashbuckling hobo, public execution, amerrican hardcore, the deal