Let this past catch up with you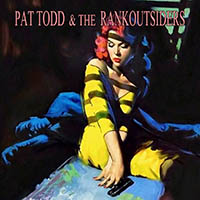 You Might Be Through With The Past, But The Past Ain't Through With You b/w Ruby Baby – Pat Todd and The Rankoutsiders (Heavy Medication)
Ex-Lazy Cowgirls leader Pat Todd makes records that his contemporaries wish they could. If you ever see an album by Todd and his band The Rankoutsiders in the wild, just grab it. Get your hands on this non-album track 45 on Polish label Heavy Medication as well.
"You Might Be Through With The Past…" is a prime slice of Americana-via-Chicago-blues goodness with blazing blues harp, bristling guitars, a willing engine room and the knowing vocal of Mr Todd dishing it all up with a side of punk rock attittude. It's the same crew that brought you "…there's pretty things in Palookaville…" (on Hound Gawd! Records), one of the best records of 2021 bar none.
Flip it and you get a good-time take on the Leiber and Stoller song "Ruby Baby", a standard that's been done to death by evertone from The Beach Boys to Dion. In the hands of Todd and Co, it's spraypainted with a liberal coat of rough 'n' roll charm to sound damned near brand new. Raucous and righteous! Don't walk, run, the purchase link is below.


Tags: pat todd, heavy medication records, rankoutsiders, You Might Be Through With The Past, But The Past Ain't Through With You