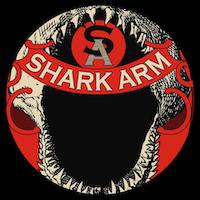 First heard this outfit on Big Daddy K's Sydney community radio show (2RR, 6pm AEDT Saturday nights). They'd released a single ("Dog's Breakfast" b/w "Stitched", and I was smitten. So I got in touch. Turns out the band have released an LP, but as so many do, it's virtual at present.
You'll excuse me. Many, many bands show their influences. Sometimes these are subtle or complex. When I first listened to "Any Port..." I thought they were familiar with Chris Walsh's bass in The Moodists... but no, apparently not. They've taken the bits of bands which have most impressed them, and created... some sort of powerful monster.
Shark Arm are anything but subtle. They've taken aspects of The Birthday Party - but not the bits the Jesus and Mary Chain took - the violence at gigs, the shriek-y feedback, the singer leaning on the the guitarist onstage, and - of course - the big hair. None of that. Instead, we're looking at a two-piece (drums, and guitar/ vox) who use ugly bass loops, sing clearly about ugly truths, and whose guitarist has learned about space as well as position.