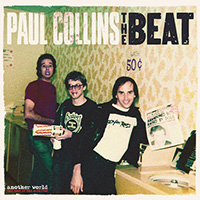 Another World (The Best of The Archives) - Paul Collins & The Beat (Alive Natural Sound)
Paul Collins must be a hoarder. Probably a bit of OCD in there too, if you'll excuse the long-distance and unqualified psychoanalysis. It goes with the pop songwriter turf. And this collection of previously unreleased recordings attests to it.
These songs are from Collins' sock drawer and they go all the way back to 1980. Don't let the demo quality of some of them deter you. There's more than the occasional fleck of gold among the 18 tunes. In fact, it's a rich vein. For example, "Hey DJ" outstrips the previously released version - by a long way.