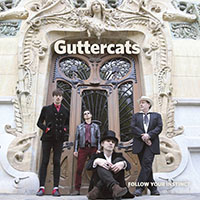 It's four albums into the game for French band Guttercats and it's with an almost entirely new line-up. Vocalist Guts Guttercat is the sole original member. Before you ask, he sings in English - and with more than a little sense of drama in his delivery.
Not to be confused with the UK Gutter Cats (punks) or their L.A. counterparts (sleaze-glam), both contemporaries using the two-word form of the name, this crew cites The Only Ones, Rowland S. Howard, Nikki Sudden, Chris Bailey and Gun Club as influences.
That's a varied bag and so is their music. It runs the full gamut - from Bohemian semi-acoustic, dark pop to garage-style rock rave-ups. I'd throw the Bad Seeds and Dream Syndicate in there, too, or even final days Johnny Thunders.