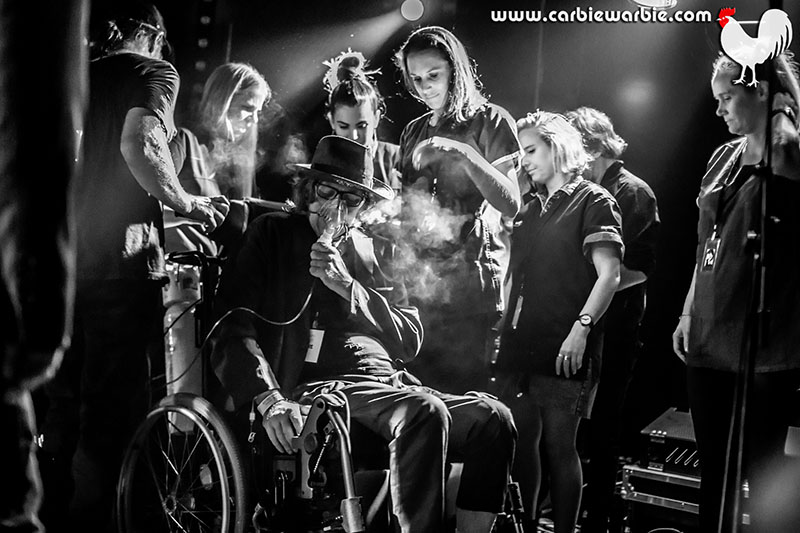 Brian Henry Hooper being attended to by his angels, his nurses. Carbie Warbie photo.
Four weeks ago Brian Hooper lay in intensive care, surrounded by family and his closest friends. The tumour doctors had found on Hooper's lung just before Christmas was preventing Hooper from breathing without medical and mechanical assistance. Specialists suggested the even Hooper's short-term survival was in the realm of miracles.
It wasn't the first time Brian Henry Hooper had been told to fear the worst. Just over 14 years ago Hooper was told by specialists he may never walk again, after the balcony he was standing on at a gathering in Victoria's Mornington Peninsula collapsed, sending Hooper crashing to the ground, his back mangled from the fall.
Over the next 12 months, Hooper pulled himself back from the edge of permanent paralysis. Hooper's resilience and psychological strength astounded all around him. In late 2004 Hooper limped back on stage with the Beasts of Bourbon for a gig at the Greyhound Hotel. Towards the end of the set, his battered spine unable to withstand the trauma of standing any longer, Hooper lay on the ground. His bandmates, save for Tony Pola on drums, followed suit, three battle-hardened rockers lying prostrate on the stage in sympathy for their comrade-in-arms.