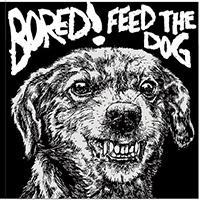 "Feed The Dog" b/w "Coming Back" – Bored! (Fantastic Mess Records)
Before the recent passing of principal member Dave Thomas, Bored! had probably faded somewhat from the collective underground music consciousness.
There was a collection of live material out on Spanish label Bang! that did address that but, being a mail order thing, it was probably only heard by diehard Australian fans. This posthumous, limited-edition single from committed boutique label Fantastic Mess rights this wrong and is a fine tribute to Dave.