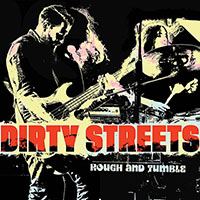 Rough And Tumble - The Dirty Streets (Alive Naturalsound)
They might not realise it but Califonian label Alive Naturalsound have cornered the market in hirsute bands playing psych-laced, Southern fried boogie rock with a dash of soul. The Dirty Streets might be the label's archetypal flag-fliers.
They lack the massive guitar jam excesses of Radio Moscow, the rustic dryness of the early Black Keys or the home-grown stoner full-tilt boogie strut of Left Lane Cruiser (all of them label mates, past or present) but The Dirty Streets share the same zipcode.