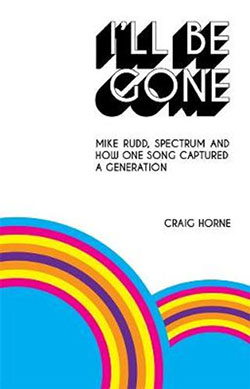 I'll Be Gone: Mike Rudd, Spectrum and How One Song Captured a Generation

By Craig Horne (
Melbourne Books)
Craig Horne's biography of New Zealand-born musician Mike Rudd comes with a lofty sub-titular proposition: "How One Song Captured a Generation". That song is Spectrum's chart-topping 1971 hit, "I'll Be Gone".
Horne's biography is a valuable contribution to Australasian musical history. While Rudd's trajectory as a musician and songwriter is common to many musicians, Horne's methodical research and oral history charts the highs and lows of Rudd's career in impressive detail.
Save for a few cursory mentions in John Dix's chaotic history of New Zealand music, "Stranded in Paradise", Rudd's Christchurch r'n'b band, Chants (or Chants R'n'B), the frenetic band whose parochial popularity provided the basis for Rudd's move across the Tasman in the late 1960s, is largely absent from the pages of musical history.
Rudd's tenure in Ross Wilson's Party Machine, covered previously in Horne's biography of Daddy Cool, is recounted from a more nuanced, Rudd-oriented perspective. Spectrum rises, plateaus, recalibrates and fades away. Ariel teeters on the edge of commercial success, only for the record company to lose interest.