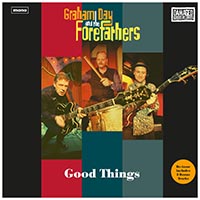 A re-issued collection of hits and misses from 2014 with extra tracks, "Good Things" is a revelation to these ears.
That really shouldn't be the case with two members of The Prisoners on board. Power abounds with this UK trio on their 15-track effort, which is out on the always great Damaged Goods label, which is the home of the so-called Medway Sound.
Medway, you say? It's the name for a style of beat-garage based out of Kent that takes its lead from the Kinks, the early Pretty Things and a host of similar bands that walked the rough side of the street in the '60s. Billy Childish is its most famous son, or titular head. Long may he rule...