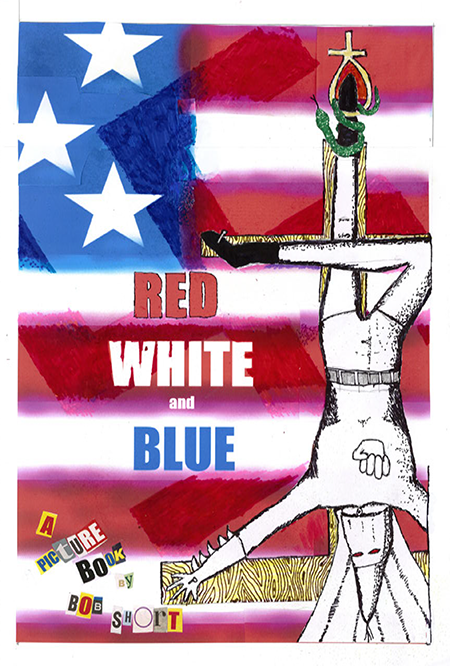 Red White and Blue
By Bob Short
Sydney's Bob Shortwalks his own path: from the character of as teenage blue-collar Wollongong punk to near starvation living in London's squats and his goth punk band Blood and Roses.
Bob is a singer-guitarist who was a member of Sydney's first punk band, Filth. He was an Oxford Funhouse regular who has toured as a member of Chris Masuak's band.
Bob still produces an electic mix of self-styled low-fi albums that avoid the mainstream. One is a soundtrack to a 1930s German expressionist movie. He also has a regular segment on the cult Sonny Michael's streamed Internet show out of Brisbane
Bob Short is just simply creative and way too cynical to even think about commercialism
I have to say one thing - expect the unexpected from Bob. I knew about his autobiography and now there's another string to Bob's bow in what would you can call his "adult comic". It has taken me by surprise; it's puzzling and challenging, intellectual and full of iconic images.
You can wonder what Bob's nightmares are about and, well, maybe now we have a glimpse.
How do you review Bob's comic book? Well, it isn't actually a comic book but more of a deep dive into images and fragments of dialogue and it is defintely a page turner.