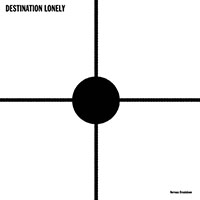 Trashy wah-wah skronk is what Destination Lonely delivers. In spades.
A bass-less trio from Toulouse, the members have done time in Jerry Spider Gang, The Fatals and Kung Fu Escalators. If those names mean anything to you, you'll know what to expect. Just imagine them frolicking in a swamp.
This is rock and roll from the dirty side of the street. All the well-to-do people live somewhere else. Opener "Dirt Preacher" sets the scene: Barely audible, angsty vocals under layers of guitar. The wah pedal signifies music that opens up and bleeds, on a regular basis.