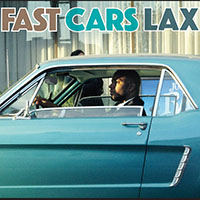 Where they've come from is academic; it's where Fast Cars are now that counts. The onetime '80s Sydney mod-power-pop band has been a creative duo since reforming in 2015, working on opposite sides of the globe. "LAX" suggests distance only makes the creative muse all that much stronger.
"LAX" is what people used to call a "concept album" - back when single song downloads weren't the staple currency of the musical economy. I know what you're thinking: Concept equals Pretentious. Wrong. "LAX" stays well away from that precipice. It's 12 songs of classy psych pop, alternately dreamy and lush, occasionally funky or wrapped in strings, and framed loosely on the theme of seeking your dreams in a big city.
"LAX" is also a Dropbox record. Dropbox is the cloud app that's become stock-in-trade for projects like this. With vocalist-guitarist Di Levi based in Bristol, UK, and guitarist-songwriter Fabian Byrne living in Sydney, Australia, the swapping of ideas, sketches, recorded parts and, ultimately, fleshed-out songs, had to occur online.