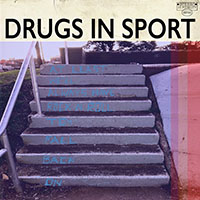 At Least We'll Always Have Rock n Roll to Fall Back On – Drugs in Sport (Outtspace)
Effervescent and tough guitar rock-pop from Newcastle, Australia, will not be the Next Big Thing for the nmatiomnal yewf network Triple J. But it can be in your own listening space, and here's the proof.
Drugs in Sportdo cranked-up guitar pop exceedingly well. It's a genre that's been milked and relegated to the mainstream's back blocks in favour of sanitised, autot-uned pap. Anthony (bass), Errol (vocal and guitar), Geoff(guitar) and Jez(drums) apply their own twist. You can't beat humans playing real instruments, especially (even if) they're, ahem, older chaps or lasses.