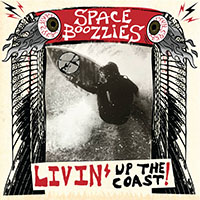 Living Up The Coast – Space Boozzies (Outtaspace Records)

Short, sharp guitar bursts tempered by occasional sax and lots of singalong choruses. These Space Boozzies have their punky garage sound nailed on "Living Up The Coast", their second long player in eight months, and it's now tighter and harder.
The 12 songs here reek of irreverence, stale beer and stained footy shorts – as befits a band from the New South Wales Central Coast.
For those not in the know, The Coast is a place just an hour north of Sydney's festrering rat race where the backyard barbecues burn brightly most weekends and the living is relatively easy - even when welfare dependence is high.