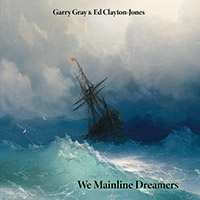 We Mainline Dreamers - Garry Gray and Edward Clayton-Jones (Spooky Records)
Top-drawer stuff from the Sacred Cowboys frontman Garry Gray and the wicked guitar sidemagician best-known for his work with The Wreckery and The Bad Seeds, Edward Clayton-Jones.
Hasten thou to the magic credit card...
In the next few weeks I shall be taking a sabbatical from reviewing for most of a year. However, I must unzip myself first. "Full disclosure" as The Barman says.
First, I've eaten salt, broken bread and shared a jug of wine with both culprits (and I've written songs with Garry).
Second, while I have a tendency to get very excited over new music, when it's closer to home, when reviewing I am if anything more restrained. Also, there's always that slight anxiety before I start listening: will this be crap?