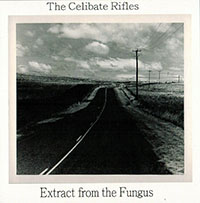 Extract From the Fungus - Celibate Rifles (self released)
Consider it a last will and testament. Eleven songs, cobbled together from restored quarter-inch tape or cassettes, all but one track previously unreleased. It's music written by other people, which isn't a detraction 'cos the Rifles always had the best covers. These are remnants of recording sessions from 1984 right up until a few years ago, but they're much more than throwaways.
The Celibate Rifles have a special place in the hearts and minds of most who saw them. A bunch of suburban Sydney boys fronted by a worldly and older larrikin, they began more brazen than cool. Before long, they fitted in with the exploding Australian underground of the '80s and '90s better than many critics realised.