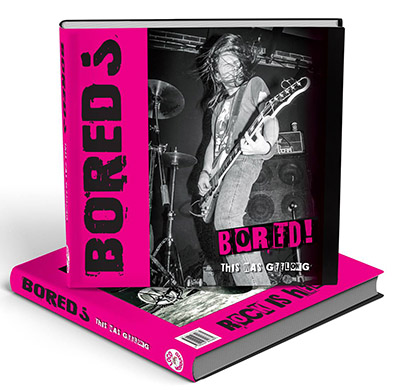 It's being lauded as a definitive word on the this was geelong. Geelong rock and roll scene. It's a 680-page book called "Bored! This Was Geelong" and one of the fertile breeding ground's offspring is making sure they mark its release with a bang.
Warped is releasing a seven-track batch of compilation-only and live tracks called "Precocious Little Bastards". You can see them both if you drag your mouse over the image at right.
But frst things first. The book is out now and the first 500 copies comes with two limited edition 45s featuring Bored!, White Noise and Seminal Rats. It's selling here. It ain't cheap ($A225) but it looks incredible. For detailed information about the contents, hook up with the publishers on Facebook here.
Warped formed in 1990 as "three teenagers armed with three chords and no fear", taking to the stage of the Eureka Hotel in Geelong to support The Dirty Loversand Bored!. Beer cans flew, obscenities were flung and a beast was born.
Thirty years on and the band are still going strong, a force in the rock landscape of Australia.
The first line-up, featuring Lightning Watkins on guitar, Cris Crime on drums and Darren "Dez" Dare on bass, laid the groundwork for the decades to come, worshipping at the altar of cheap pedals, noisy rock and one-up-manship on stage.Partial to destroying gear and the occasional Humphrey B Bear chair, they stormed through supports with the likes of Hard-ons, Bored!, Celibate Rifles, 5678s, Dead Moon and Fugazi.
In 1992 Darren parted ways with the band and formed Toadwith Daveand Buzzfrom Bored! and Thee Vinyl Creatures. Ben and Cris have continued on to tour extensively and release many records. "Precocious Little Bastards" is available in digital form here.